The RCH Foundation
The Royal Children's Hospital Foundation (RCH Foundation) was established in 1989 to manage the fundraising and philanthropic activity of The Royal Children's Hospital (RCH).
For over 30 years, the RCH Foundation has managed and distributed funds raised by the Good Friday Appeal (GFA), Auxiliary groups, the Uncle Bobs Club (UBC), and many others who continually support excellence in care, treatment, research and training that improves the lives of young people and their families.
Presented in three parts, The RCH Foundation online audio exhibition describes the history and role of the fundraising arm of the RCH. Please explore below.
Photo: The Royal Children's Hospital Good Friday Appeal building (front entrance) opened in 1990. The RCH Foundation offices are still located here.
RCH Foundation origins provides a brief history of the hospital's fundraising efforts and explores what the RCH Foundation is, why it was founded and what it does. This audio story features an interview with RCH Foundation Chief Executive Officer Sue Hunt.
Listen to the audio story RCH Foundation origins below:
Photo: From humble beginnings in 1944, clinical research at the RCH is now leading the world in clinical advancements in the prevention and treatment of paediatric illnesses.
Enabling excellence explores how the RCH Foundation provides support for research, clinical trials, and professional learning and development; the RCH Foundation ensures that funding is directed toward the best possible uses. In 2018/19, more than 200 ground–breaking initiatives were funded at the RCH, totalling more than $38.2 million.
This audio story features the voices of Sue Hunt (RCH Foundation CEO), Professor Andrew Davidson (RCH Director of Clinical Research), Penny Fowler (GFA Chair), Paul Etherington (UBC President) and Ms Wirginia Maixner (RCH Paediatric Neurosurgeon).
Listen to the audio story Enabling excellence below: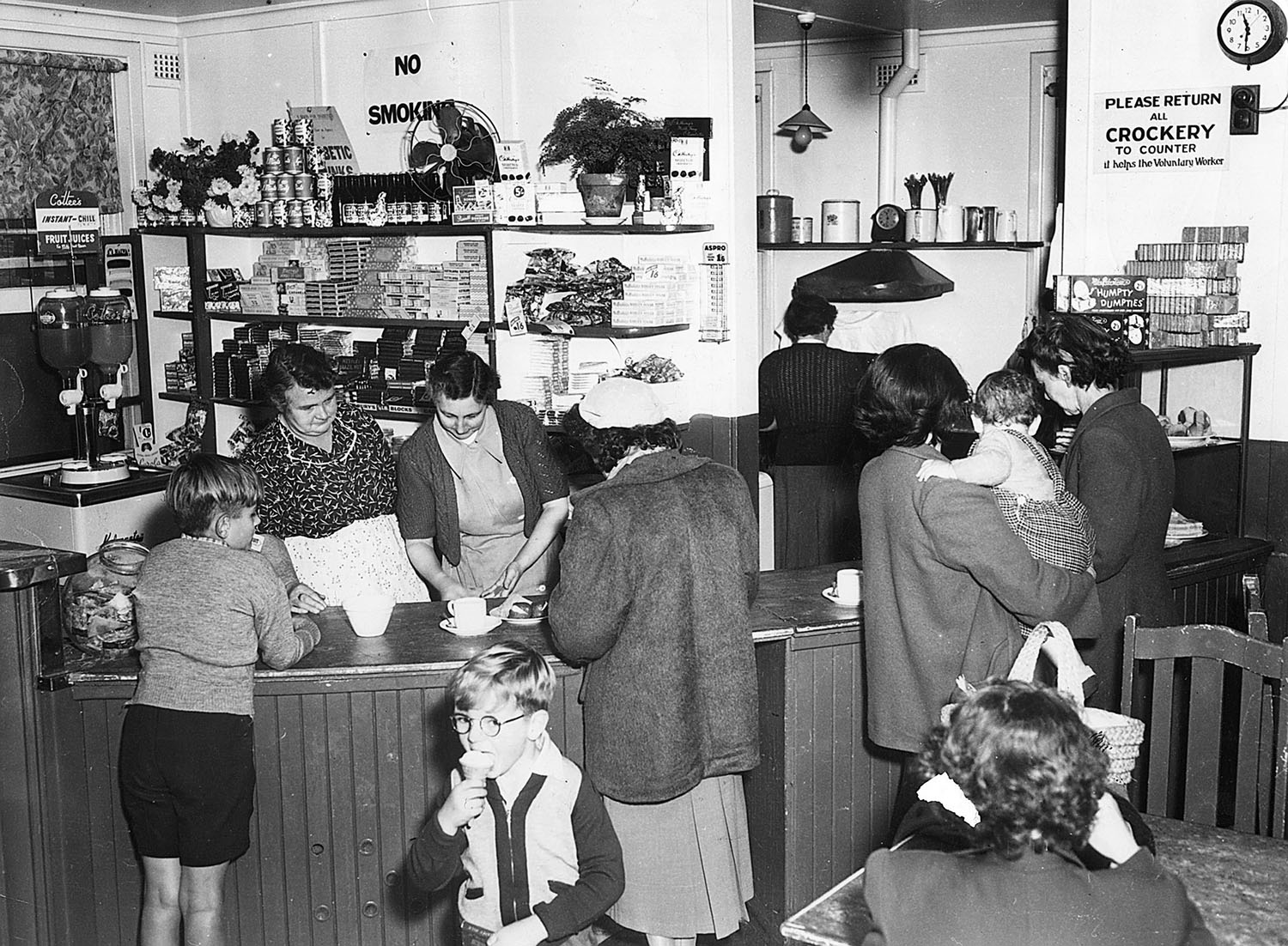 Photo: Auxiliaries running the canteen in the old Carlton hospital, early 1950s.
A community of support looks at how the RCH Foundation works with other fundraising arms and encourages community engagement with the hospital. The Auxiliaries first formed in 1922 and the RCH is still home to over 60 Auxiliary groups who generously donate their time and energy to raising funds. The Good Friday Appeal is one of Australia's largest annual community appeals; in 2020, they raised over $18 million for the RCH. 
This audio story features the voices of Sue Hunt (RCH Foundation CEO), Louise Gourlay OAM (Patron of Auxiliaries), Phyllis Brown (Heart to Heart Auxiliary President), Penny Fowler (GFA Chair) and Doug Rathbone AM (long time RCH supporter).
Listen to the audio story A community of support below:
Please visit the RCH Foundation website to support the RCH.