Ann and Doug Rathbone AM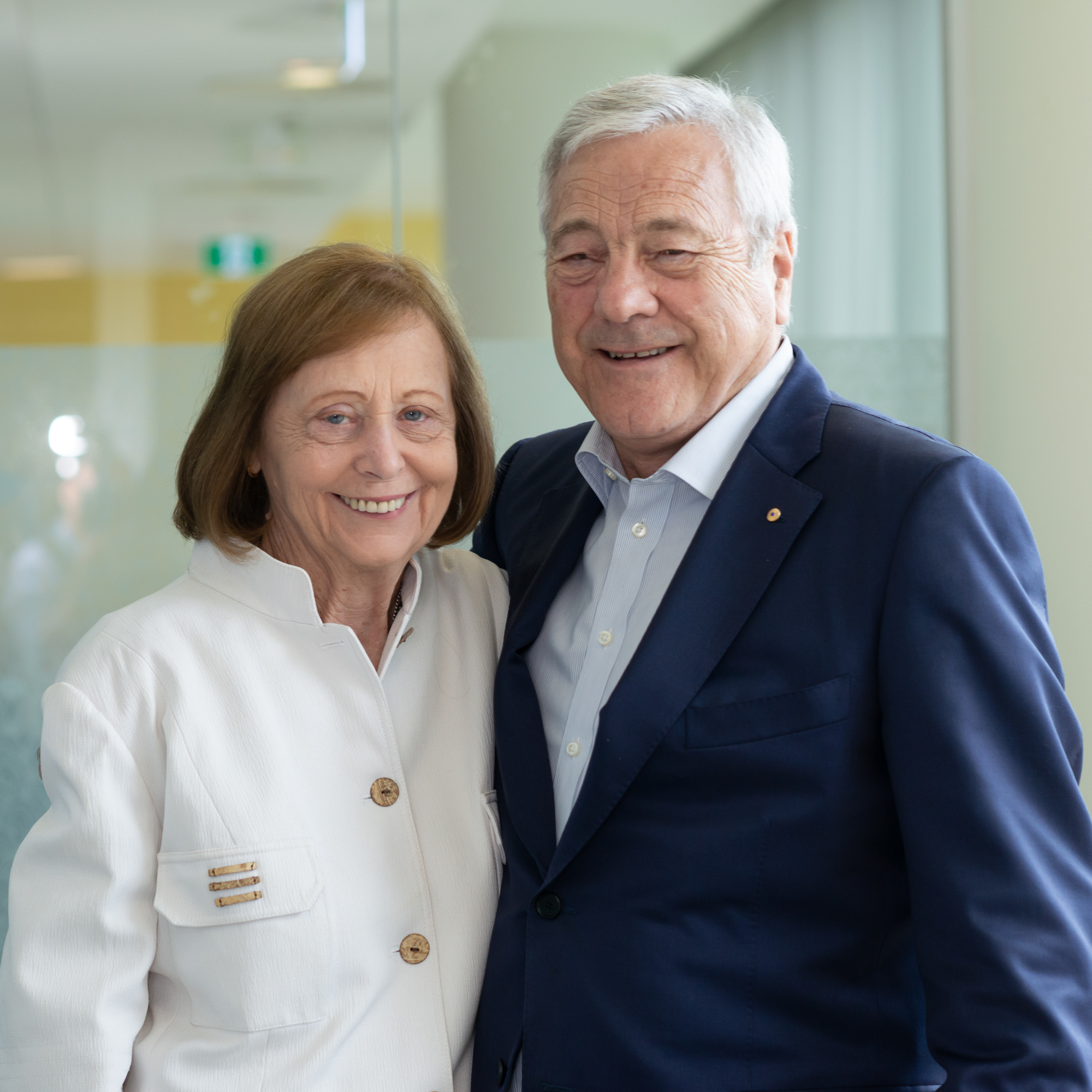 Ann and Doug Rathbone first became involved with The Royal Children's Hospital (RCH) when their son Matthew was diagnosed with non-Hodgkin's lymphoma in 1979. Matthew was just three years old when he was diagnosed with a stage 4 tumour in his stomach as a result of the disease. Professor Henry Ekert was working as an oncologist at RCH and had recently been in Texas where he had learned a procedure for autologous bone marrow rescue. This process involved removing some bone marrow from the patient before giving them a massive dose of chemotherapy and then reinfusing the bone marrow back into the patient. It was still a very new procedure for the hospital and was not without risk. As Ann recalls:
"It was explained that they hadn't been successful with it here but we were only the third family that they were trying it on virtually. So we're forever grateful because if we had lived in any other state in Australia it couldn't be offered, they didn't know about it, so it was just very fortunate."
The procedure worked for Matthew. It was a difficult time for the Rathbone family, spending weeks at the hospital while also caring for their older son Darren who had just started school. Matthew spent around six weeks at RCH this first time. When he was 14 years old, it was discovered Matthew had a brain tumour. After multiple operations, surgeons at RCH were able to remove almost all of the tumour. For the next 24 years the tumour remained inactive and Matthew was able to live a relatively normal life. But when he was 38, the tumour started growing and after another three unsuccessful surgeries, Matthew passed away in 2019. Despite their heartbreaking loss, Ann and Doug felt deep gratitude to the hospital:
"We are forever grateful to the Royal Children's Hospital because we had 40 years with him that we would never have had otherwise."
Because of their experiences with Matthew and seeing first-hand what parents and patients go through at RCH, Ann and Doug – like many parents – were moved to give back to the hospital. When they first became involved there was only one organisation raising funds for this specific area: the Leukaemia Auxiliary of the Royal Children's Hospital (LARCH). They joined LARCH and both ended up serving as president at various times. LARCH raised funds for research through events like art shows and other formal fundraisers.
From their time on the ward with Matthew, Ann and Doug knew how hard it was for patients and their parents. While the level of care and support from the staff at the hospital was unwavering, the facilities offered to children and families were less than satisfactory. The wards consisted of six-bed shared rooms and if parents wanted to stay the night with their children, which Ann and Doug did, they had to sleep on a mattress on the floor.
Ann and Doug wanted to rebuild the 6 East ward into a new, more family-friendly place. Initially it was thought that the hospital needed $6 million for the project, but after discovering asbestos that figure rose to over $20 million. As Doug recalls 'so then we put some pressure together and we formed a group which subsequently became the Children's Cancer Foundation'.
Established in 1998, the Children's Cancer Foundation (CCF) has been a vital contributor to RCH ever since. The first appeal raised $22 million for the 6 East ward rebuild. Doug remained on the board until 2012, stepping down after 15 years. As well as funding rebuilding projects, the CCF also raises valuable funds for research.
Prior to the establishment of the CCF, the Rathbones were founding members of My Room, a volunteer organisation raising funds for childhood cancer research, clinical care and family support. For close to ten years, Ann was also a board member of Challenge, a charity established in 1983 to provide support, and recreational activities for patients and their families living with cancer.
The Rathbones have remained dedicated to advocating and fundraising for childhood cancer. They have created an impressive and significant legacy, but for both Ann and Doug, what is most important is that they feel like they've contributed in a way that not only honours Matthew, but is also sustainable for helping other children in the future.
"It's important we've been able to contribute to creating a sustainable way to keep going forward … it's a work in progress but by definition we have to be further towards the end than we were a while ago. But I think it's about feeling good that things are in place like the Foundation, like My Room, like Challenge … it's the sustainability of the system that's probably the most important."
Listen to an audio extract from Ann and Doug Rathbone's 2019 oral history interview 
Transcription of audio extract:
Doug: "We're fortunate – it's a funny way of saying it – that once you've had the experience of being in the ward, being in RCH, you become a long-serving party. One of the issues that other charities have is people are on a shorter roll. We're fortunate in that a number of the people that have come in have supported and have stayed long term, but for the most part the position is you get intense commitment and long-term commitment which is a great advantage to the philanthropic cause and charity."
Ann: "From the time Matthew's – we knew that it was going to be successful, we were told there was bone marrow rescue – we felt a debt. We were very fortunate that Henry had been in America and John Miles appeared and so forth, and so we felt that we had to try and contribute so that children who were following on would have the same sort of experiences where in Melbourne we were up to date with the latest, they had a better chance to pull through. That was a big part of what we're about."