Phyllis Brown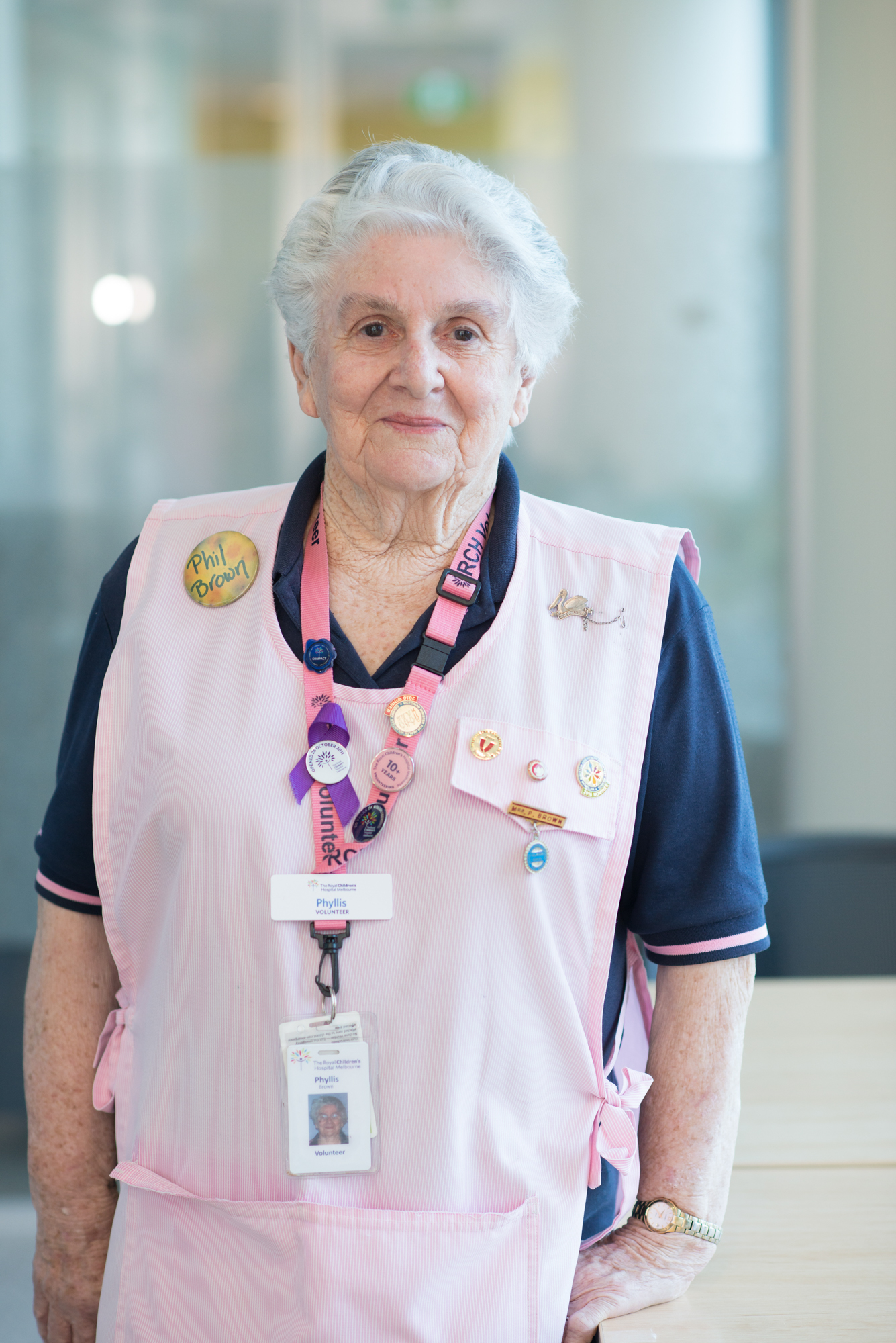 At 81 years of age, Phyllis Brown has given her time as a volunteer at The Royal Children's Hospital (RCH) for more than half her life. To this day she remains passionate about the hospital and its people, describing the RCH as 'family'.
Phyllis started in 1979 after her daughter Dianne suggested that volunteering at the RCH might suit in light of her great love of children. Phyllis' early days were spent helping in the crèche looking after the siblings of children on the wards. On the orthopaedic ward Phyllis found herself working alongside the play specialists whose work she greatly admired. She spent time as a guide to groups of school children taking educational tours of the hospital. She has done the library run and been an exam supervisor for long-term patients who found themselves having to complete their studies in hospital. In the latter part of her volunteer service Phyllis has helped with the ongoing management of the intravenous splints that have to be continually collected, cleaned and returned to the wards.
Over 40 years Phyllis has witnessed many changes. In the early days, for example, female volunteers were required to wear a uniform comprising a pink button-up dress, sensible closed shoes and bone coloured stockings. Phyllis has also seen much more substantial changes in the hospital as well, including the way the new building has transformed the experience for young patients and families.
Not content with just giving regularly her time at the hospital, Phyllis also carries out duties as president of the Heart to Heart Auxiliary. She and her colleagues have worked tirelessly over many years to raise funds for the cardiac unit with stalls, raffles and contributions to the RCH Gift Shop and the Cuppa for Kids events. Although it seems age is finally catching up with this stalwart crew:
"We're only a little group because a lot of us are getting older, a lot of us have left. We're just getting all in our 80s now, it's getting a bit of a challenge at the moment."
For her extraordinary auxiliary work, Phyllis was awarded the prestigious Madge Tate Award in 2013, an honour recognising an auxiliary member's exemplary service as nominated by their peers. Further acknowledging her contribution in the Heart to Heart Auxiliary, Phyllis has also been formally recognised as a Living Treasure through The Royal Children's Hospital Foundation.
Listen to an audio extract from Phyllis Brown's 2019 oral history interview 
Transcription of audio extract:
"I've made some wonderful friends, and I think that's what it's about, friendship. I think we all think alike in that regard. You're helping the hospital but if you've got a friend in here who needs an ear to listen you're a good ear. We all help each other through whatever we're going through. There's a lot of people who are capable of doing something, giving a bit back, a lot of people say 'oh you're doing it for nothing, you're not getting paid', but that doesn't come into the equation. It's something I love, I really love it."