Ranjeet Starr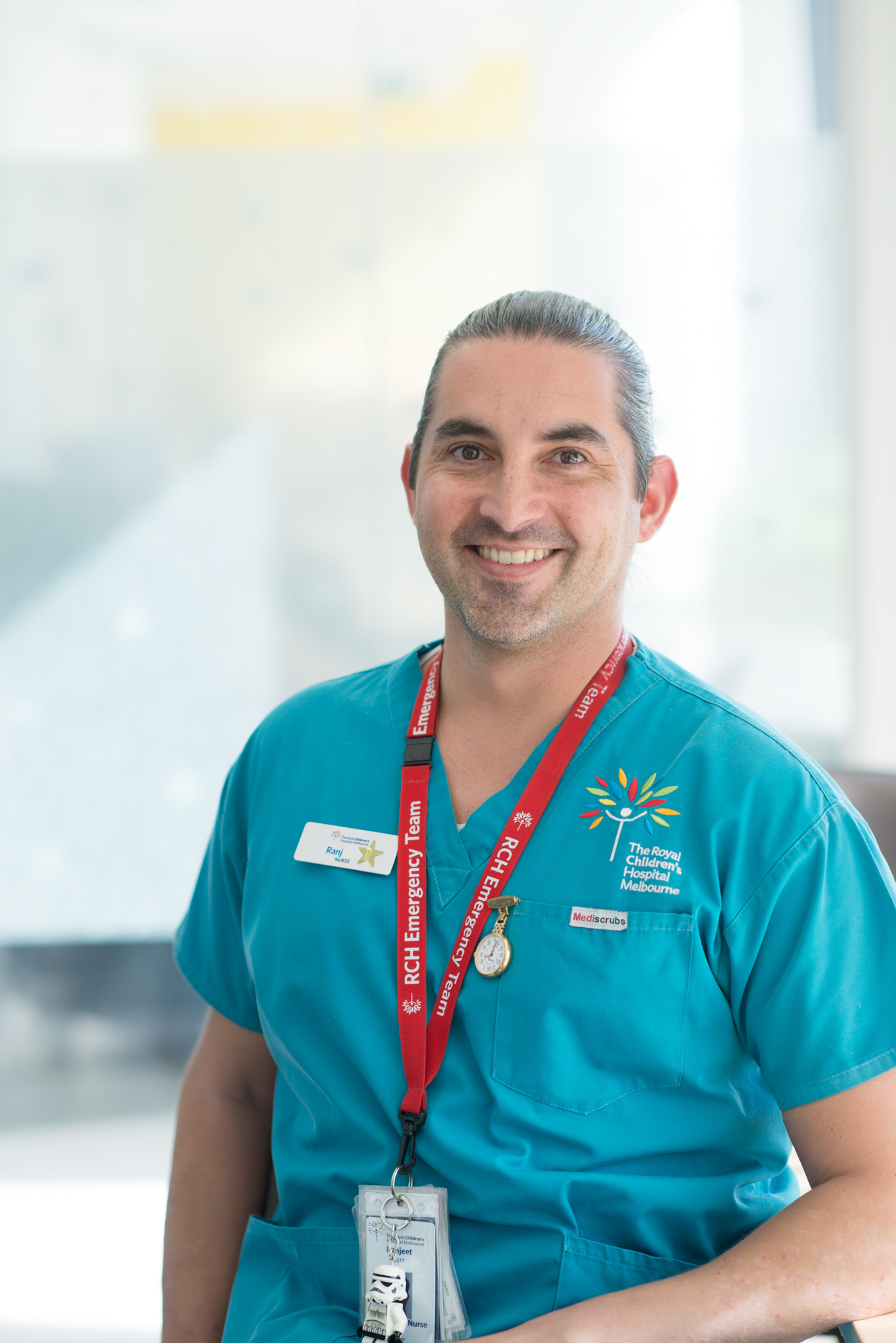 Ranjeet Starr first became involved with The Royal Children's Hospital (RCH) as a volunteer. On the lookout for a new challenge, he was encouraged by a friend to consider volunteering at the RCH. The application process was understandably rigorous and after undertaking the necessary training, Ranjeet started working as a family support volunteer in the Emergency Department in 2011.
"The thing about being a volunteer", reflects Ranjeet, "is that no shift is ever the same". Even working in the same space at the same time, the people and problems are constantly changing. One of the keys to being a great volunteer is flexibility. Ranjeet meets lots of different volunteers at the RCH and notices that people choose to get involved for all sorts of reasons.
"I've worked with people that have been the fathers of children that have had lengthy stays in the hospital and surgeries; there was another volunteer that was an organ donor recipient and the operation was done here when she was a child and she wanted to come back; then there's all the rest of us, we understand that this is an amazing organisation, and I suppose family, and just want to be a part of it and help out."
One thing that all of the volunteers have in common, however, is an understanding of how important small gestures can be to tired, anxious and stressed-out people. Ranjeet describes the role of family support volunteers as providing basic emotional first aid. Making a cup of tea, offering to hold someone's baby while they go to the toilet, sitting with children while a parent makes a phone call. "If they're well-watered and fed and less stressed", comments Ranjeet, "they're going to have an easier journey. If we can make that a little bit easier then we've done our job".
Realising the power in those small gestures is what motivates Ranjeet to continue volunteering. It also gave him the courage to embark on a totally new career – to become a registered nurse. It was his experience as a volunteer at the RCH that made Ranjeet want to become a nurse and to work at the hospital. He fulfilled this aspiration in 2018, commencing as a nurse in the Emergency Department.
"I think because it is an organisation – it's a family – it feels like you're working with some of the best people in the field and to be a part of that is enormously inspiring."
Listen to an audio extract from Ranjeet Starr's 2019 oral history interview 
Transcription of audio extract:
"So I suppose task-wise the waiting room can be a very busy, stressful, dynamic sort of heaving entity, so we spend a lot of time out there just sitting and listening to people's concerns, reassuring people, doing a lot of way-finding, lots of teas and coffees. Which is so much more than tea and coffee. I remember when I first started volunteering and I came to a volunteer event, I was chatting to one of the ward volunteers – and she wasn't intentionally being dismissive I don't think – she said, 'Oh you work in Emergency. You just make tea and coffee down there don't you?' Oh no, no, no, it's so much more than tea and coffee. Because to stop and take the time to make a cup of tea or coffee for somebody shows that you care.
"I remember when I first started volunteering in 2011 in the old hospital I sat down next to a mum, she had her toddler in her lap, and she looked really exhausted and strung-out, her kid had been a bit unwell, and I offered to make her a cup of tea and she started crying. I was like, 'I'm so sorry, did I do something wrong?' She goes, 'No, I just can't remember the last time someone offered to make me a cup of tea.' Wow, like it's so powerful. You might think it's a small gesture but it means so much.  It's the small gestures that people remember."