Matron Sarah Anne Bishop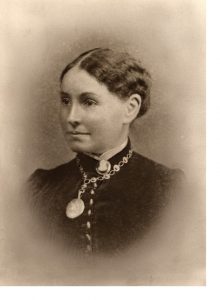 Sarah Anne Bishop was born in Somerset, England, in 1834. It is thought that she travelled from Britain to Australia in 1857. Bishop was the matron at Ballarat Hospital from 1864 – 1875 before she moved into the position of matron at The Children's Hospital, where she served for 24 years.
Only the second person to take on the role of matron at The Children's Hospital, Bishop had significant influence on the hospital environment in its formative years. Her duties were broad and included oversight of housekeeping, administration, staff, and provision of reports to the hospital committee. Through her efficiency and dedication Bishop earned a great deal of respect from her colleagues and superiors. The appreciation of her work is evident in the monetary value the hospital committee placed on her contribution.
Bishop used her influence to improve conditions for staff and patients. She campaigned for improvements to amenities for nurses and domestic staff and was successful in implementing changes such as a sitting room for nurses, wooden floors over the cold flagstones in the maids' room, and gas lamps for the night nurses. When a nurse died of typhoid fever Bishop convinced the hospital committee to pay funds towards her burial. Bishop also successfully secured funds for tram tickets to the hospital for families in need.
Bishop was key to the successful training of many nurses and the establishment of the nurse training school at The Children's Hospital. To the trainees, Bishop was a kind and authoritative mother figure whom they held in great respect. During her time as matron the number of nursing staff rose from 3 to 29 and the average yearly number of patients in the hospital multiplied by five. Bishop introduced the use of uniforms to aid in differentiation between nursing and domestic staff – this was illustrative of the formalisation of nursing as a distinct profession. Well-experienced but not formally certified, Bishop underwent the same exams as her pupils in 1891. She retired in 1899, and lived in Brunswick until her death in 1904.